Cape white villa, the video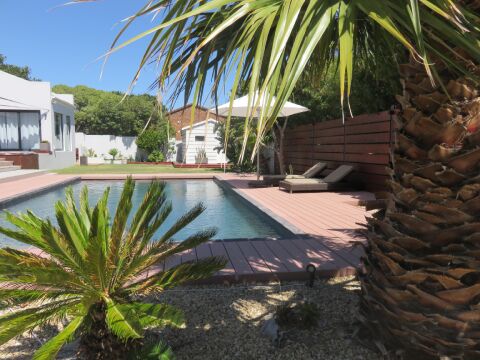 Premium accommodation
with premium service
Great location in the southern peninsula of Cape Town,
5 km from each of the two oceans, close to the Cape Point natural park.
Convenient and comfortable, the spacious villa is suitable up to 10 guests.
We are proud to make for you style and luxus affordable.
Enjoy a full individual service! Enjoy a premium and happy stay!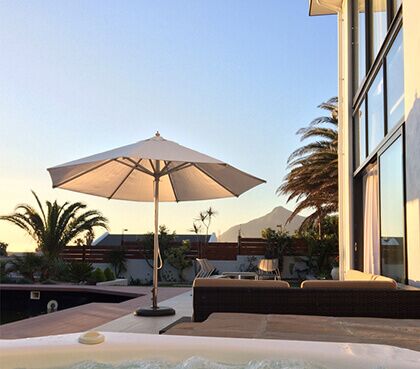 Cape white villa
Premium accommodation between the two oceans

.

The house
The place is beautiful, spacious, mainly white, neat, but still cosy, with high quality furnitures, art works and modern features. With 5 bedrooms, 3 bathrooms, it accommodates up to 10 guests with great comfort. Delightful garden with large pool.
Read more …

Stunning location
In the charming southern peninsula of Cape Town, in a valley surrounded by stunning mountains and beaches of the two oceans, all less than 5 km away. Close to the Cape Point natural park.
Read more …

Premium services
You get a high level of services included, provided by our passionated butler team, just for you, adjusted to your specific requirements. Experience the luxury of a blissful service.
Read more …

Rates
You can rent the entire place or one of the 3 units (duplex suite, main suite, family & friends suite). Discounts available for longer stays. Have a look at our attractive prices, check availability and book.
Read more …

Activities
Countless activities are possible in and around Cape Town. Outdoor adventures in the mountains or at the see, cultural events, art exhibitions, … also great experiences of dining, wine tasting, …
Coming soon

About us
At Nobimon we want to run business in accordance with our values. Get to know our team and the fundamental values which are our key drivers.
Coming soon